A Message From Our Men's Captain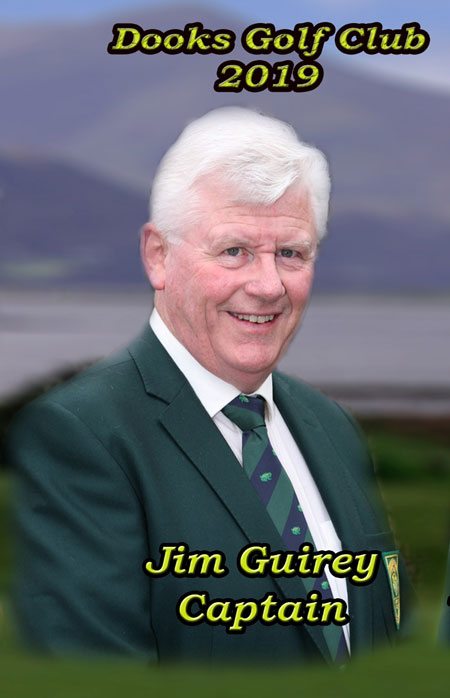 Welcome to our new redesigned Club Website – I hope you find it much improved on the old site.
I would like to thank the Website and Social Media Sub committee members – Caroline Breen, Kay Woods, Austin Shaughnessy and Pa Browne who are responsible for driving forward
the new website design in conjunction with the Website designers Brand Geeks from Killorglin.
I am deeply honoured and privileged to be writing this as Captain of this fantastic club. I am humbled by you the members for support of me since I became Captain.
Having worked on being a member on the committee over the last five and a half years I have worked closely with our staff and I would like to express my appreciation for all the help they have given me, let me tell you we are very fortunate to have such a hard working and conscientious group of people who contribute so much to the club.
We are also fortunate to have members who unselfishly give up time with their families to serve as officers , committee members, team managers and team members.
Given time constraints that are put on members today with pressures of work and family commitments it's not always easy for members to head out and play 18 holes, the dynamics of golf have changed and we as a club must move with the times and to encourage more participation in competitive golf we intend promoting 9 hole competitions in the coming year.
I am so proud and humbled that you have given me the opportunity to serve as Captain of one of the oldest, most historic and most esteemed golf clubs in Ireland. When I stand there and look at the Captains Board I am humbled to be able to follow in the footsteps of so many great captains who went before me. Looking at how much work and commitment they have put into the club to bring the club to what it is today.
Over the last remaining few months as Captain I will continue to serve Dooks to the best of my ability and will leave no stone unturned in my continued goal to drive the club forward and continue to make it a place that you the members can be proud to be part of.
My door is always open and I am only a phone call away, your comments and input in how we do our business as a Golf committee will always be welcome.
Yours in Golf,
Jim Guirey
Men's Captain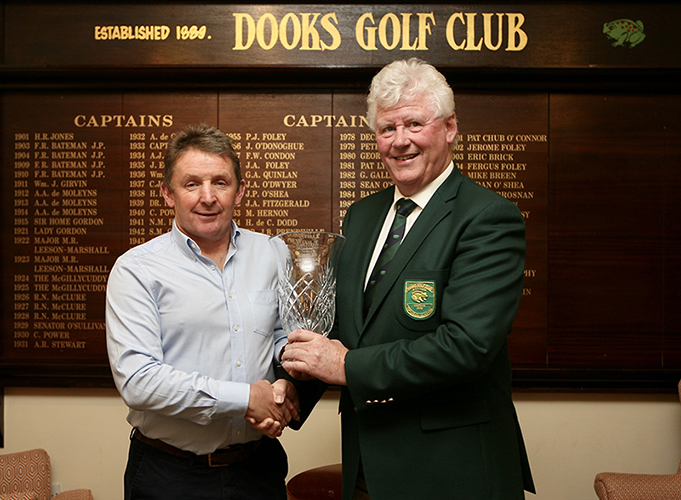 Men's Club – What's to enjoy?
Weekly competitions for all handicap levels
Golf Exchange days where we do a swap and travel to other clubs to play their courses. Courses include Ballybunnion, Tralee, Killarney, Killorglin & Beaufort
Captains weekend trip away. This is a weekend where our Captain chooses the destination. We play golf, enjoy a meal and stay overnight. It's a fun and social occasion for all our members
Seniors Golf. We have a large and vibrant seniors section. (60 years +)
There is nothing like being part of a team! There are teams available for all handicap levels and we sincerely encourage all men to take part.
AIG Junior Cup
AIG Pierce Purcell Shield
AIG Barton Shield
AIG Jimmy Bruen Shield
Fred Perry Trophy
Dr. Billy O'Sullivan Shield
JB O'Shea Memorial Shield
Senior Kingdom Challenge Shield
Intermediate Kingdom Challenge Shield
Irish Mixed Foursomes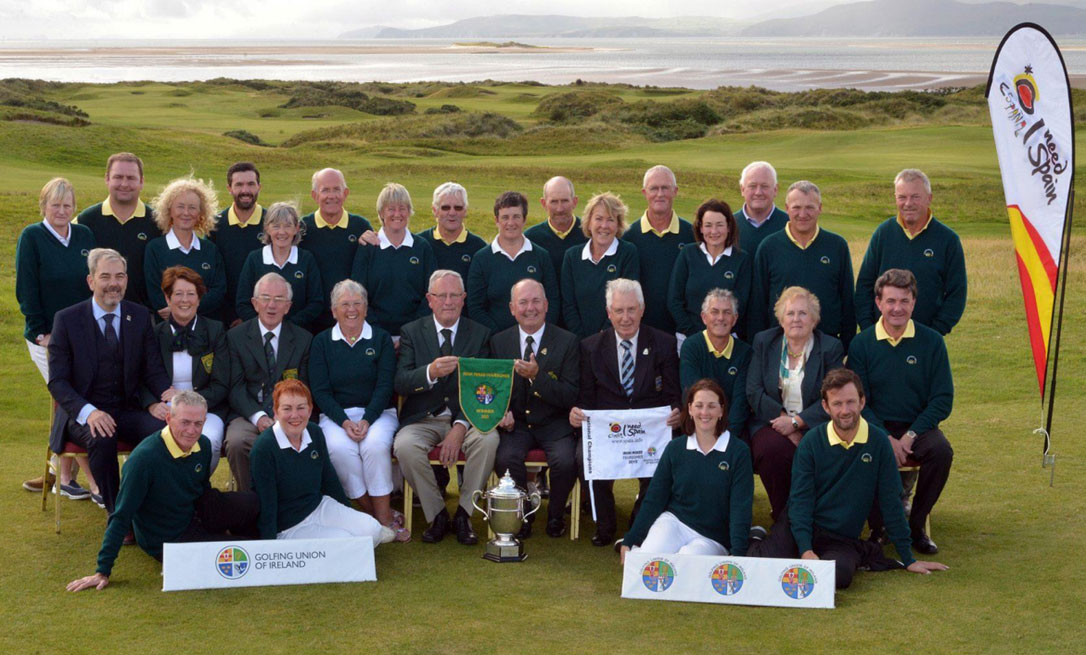 All-Ireland Irish Mixed Foursomes Champions 2015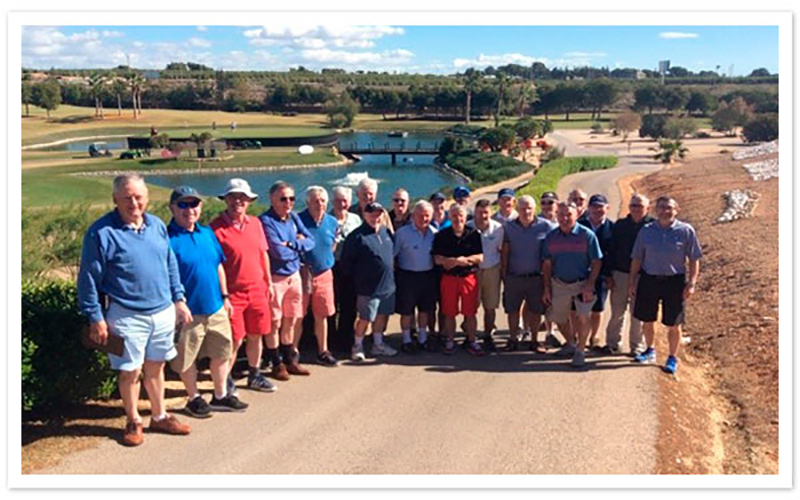 Dooks Captain's Away Trip
Men's Captain's Profile
When did you first start playing golf?
2003
Who introduced you to it?
A work colleague.
What is your favourite course?
Ballybunion (Old Course) – spectacular and challenging.
Can you remember your best golf shot?
During a friendly round in Dooks with Jim O'Sullivan . On the 2nd par 4 pitched up for my 2nd shot. Ball hit the top of the flag and rolled down the flag pole and in the hole for an eagle.
Can you remember your worst golf shot?
Too many to be specific!! I think the unmentionable – the dreaded sh sh sh!!! Thinking your going one way, but end up going another – a killer.
What do you think is the biggest challenge facing the game of golf?
Attracting young people to the game. Golf by its nature is an individual sport, while young people prefer to play team sports. That's our challenge. We have a plan to approach primary & secondary schools in the coming year. We also need to facilitate existing members who find it hard to find time to play 18 hole competitions due to pressures of work and family commitments. We are introducing 9 hole qualifying competitions to help members to continue to be involved in competitive golf.
What do you like most about golf?
It's you against the course. The bad shots that make you wonder why you play it at all and the good shots that bring you back every time. It's an emotional roller coaster. Conditions on the course continuously changing. Above all It's you getting out on a beautiful course such as Dooks and playing around of golf with friends and new friends and enjoying the moment.
Who is your favourite sportsperson ? Why?
Paul O'Connell – Munster Man , Captain. Who leads from the front, encouraging and driving his players onwards. Never gives up, fearless, a true gentleman.
What was your highest and what was your lowest handicap?
Highest 21  –  Lowest 15 ( so far – I'm still trying !!!).
What piece of advice would you offer anyone thinking of taking up the game of golf or just starting out?
Take a few lessons from Dan our Pro, to get you off on the right track. Without which you'll develop bad habits which are difficult to reverse. Above all, its all about enjoyment , go out and enjoy yourself.
Any further message?
Golf becomes a way of life it broadens your social scene , it provides a means to meeting friends and making new friends. its not all about the competitive edge, but, being competitive adds to the enjoyment. Your goal will be to reduce your handicap. Don't hesitate to take advise from others.
In addition to the many club competitions Dooks also take part annually  in over 12 interclub men's competitions organised by the GUI and the Federations of Kerry Clubs.  I encourage all our members to get more involved in these inter club competitions.