A Message From Our President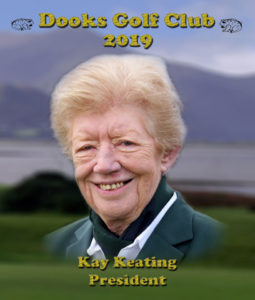 I am privileged and honoured to be President of Dooks Golf Club. I extend my sincere good wishes to each member of our Club.
Dooks Golf Club was founded in 1889 and is one of the ten oldest Clubs in Ireland. I have been a Member for sixty four years. I have experienced the best of times and a most worrying period. In 1964 our lease expired and we were informed by the owners, Beresford McGregor that the property was for sale and that we would have to leave. The Members of the time launched a National "Save Dooks Campaign" which raised the funds for the Members to purchase the property. The day I was informed in 1965 that we had successfully gained ownership was the happiest of my sixty four years. Work commenced immediately to develop the Course and Clubhouse, this was gradual and is ongoing. We owe a deep debt of gratitude to those who have worked hard over the years to provide us with the excellent facilities which we enjoy today.
Dooks is a special place. I have always had fun, enjoyed friendly rivalry and received support in difficult times. My hope is that this ethos remains in the years to come.
We, the current Members must shoulder our responsibility of ownership and ensure that we pass on to the next generation a vibrant and viable Club which reflects the best of our unique traditions.
Our age profile is a matter for concern and I ask that we all commit to providing structures within the Club which will attract young golfers to take up the game which is dear to all of us.
I extend a warm welcome to all of our visitors and to assure them that all efforts will be made to make their visit a memorable experience.
I thank you all for your support and kindness to me this year.
Kay Keating
President's Profile
When did you first start playing golf?
I started playing golf when I was 16 years old. Encouraged by my father.
What is your favourite course?
My favorite course next to Dooks is Ballybunion (Old course).
What do you think is the biggest challenge facing the game of golf?
The age profile of players generally.
What do you like most about golf?
The challenge of playing the best in every round and the friends I have made.
What was your lowest & highest handicap?
My highest handicap was 26, my lowest handicap was 7.
What piece of advice would you offer anyone thinking of taking up the game of golf or just starting out?
The advice I would offer is to have lessons and lots of practice before taking out a handicap.

Dooks Golf Club is renowned for its friendliness and invites all visitors to enjoy the unique atmosphere of the Clubhouse. The warmth of the greeting you will receive at Dooks is unrivalled. From the moment you walk through our doors you will feel immediately at home.
The Clubhouse is all inclusive with Locker facilities for visiting golfers, a Pro-shop and Bar/Dining room. After your round why not relax and restore the energy levels! The bar and dining facilities offer visiting golfers the opportunity to relax in comfort and the opportunity to chat with the members. A menu which includes both light snacks and more substantial meals, all freshly prepared using local produce is available throughout the day.
Here in Dooks we have a vibrant Men's Club, Ladies' Club & Junior Club. Our doors are always open to Visitors and Prospective Future Members.
Members Time
Members have priority (Mon-Fri):
09.00 – 10.00 / 13.00 – 14.30 / from 17.00
Members have priority (Sat)
up to 11.00 / from 15.00
Members have priority (Sun)
up to 14.00 / from 15.00
Club Administrators, Clubhouse Staff & Course Staff
| Position | |
| --- | --- |
| Secretary Manager | John Foley |
| Accounts | Breda O'Connor |
| Reservations | Anne Coffey |
| Pro Shop | PGA Professional Dan Sugrue, Jonathan Sparling, Joanne Falvey & Suzanne Murphy |
| Natterjack Bar | Tom Griffin (Bar Manager), Johnny McGillycuddy, Will Mitchell & Colm Galvin |
| Hungry Toad Restaurant | Ciarán Ó'Nualláin |
| Golf Course | Micheál Shanahan (Head Green Keeper), Barry Harmon, Philip McGillycuddy, David Pigott, Charles McGillycuddy & David Houlihan |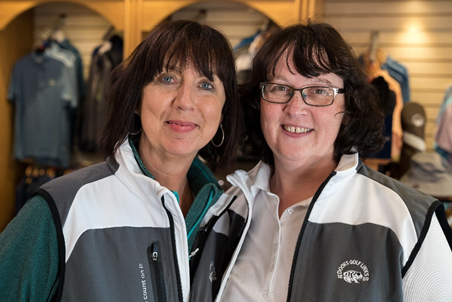 Anne Coffey & Breda O'Connor