A Message From Our President
I am so honoured and privileged to be your President for 2020 and look forward to serving you all as best I can in the year ahead.
Standing on the second green on a summers evening, looking over the incredible landscape, the pristine fairways, the rolling sand dunes, and watching the sun set over Dingle bay is truly breath-taking and must rank as one of the most beautiful, tranquil places on our planet.
Dooks Golf Club was founded in 1889 and is one of the tenth oldest golf courses in Ireland.
As a young student in the early 60's I used to be picked up after school by the late Tadhg Connor a prominent member of Dooks and Captain in 1971. He first introduced me to the game, giving me a lifelong passion for the game and a love for Dooks.
Dooks can best be described at this time in a Newspaper article published in 1964:
"Dooks Golf Club has been purchased by its members – all 30 of them – and a few friends for £7000. For this their cash the received 100 acres of first-class golf coast line and a modest clubhouse."
The continued enthusiasm and vision of subsequent committees, the support of the members, have all contributed to the amazing club we have today.
Dooks is in a great place at the moment currently ranked 24th best golf courses in Ireland.
Professional, friendly and welcoming staff.
Dedicated, committed members and club officers.
Exciting plans for the future.
I am confident that Dooks will continue to prosper and pass on this great legacy for future generations.
I extend a warm welcome and best wishes to all our visitors and hope you enjoy the Dooks experience.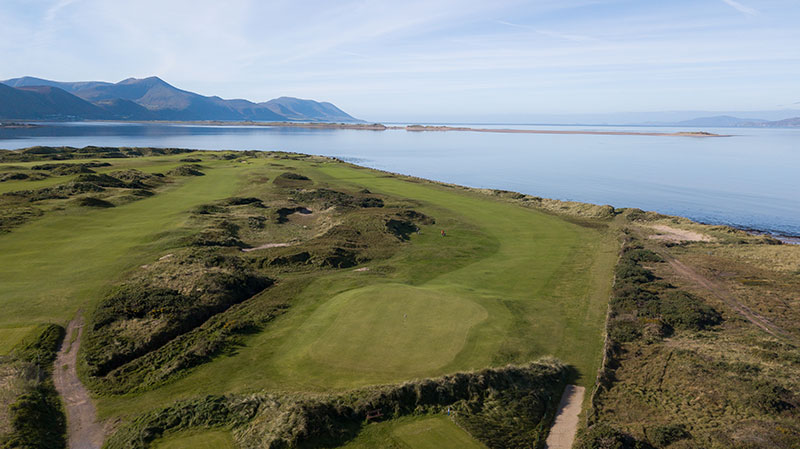 President's Profile
When did you first start playing golf?
I first started playing when I was 13 introduced by the late Tadhg Connor NT
What is your favourite course?
Excluding Dooks has to be Adare. The 2026 Ryder Cup venue is truly spectacular and will showcase Ireland as a World class golf destination.
What do you think is the biggest challenge facing the game of golf?
To encourage and facilitate our youth, especially those finishing school and young married couples. They face enormous challenges and pressure trying to balance work, financial and social commitments.
What do you like most about golf?
Nothing beats a good friendly fourball, the comradery, banter on the course and the 19th green afterwards.
What was your lowest & highest handicap?
9 and 18
Can you remember your best golf shot?
A hole in one playing a 7 iron on the 3rd on the Killeen course, Killarney Golf club playing with the late Tom McBride.
Can you remember your worst golf shot?
Shouting 'four' off the 14th tee during Gene Ahern's captains prize day in Dooks. The ball landed on the centre of a hospitality table set up beside the 13th tee by his good wife Helen, scattering drinks and refreshments everywhere and lucky to have escaped with her life.
Who is your favourite sportsperson? Why?
My hero growing up was Gary Player, widely regarded as one of the greatest golfers ever, I still have some of his early golf instruction manuals.
What piece of advice would you offer anyone thinking of taking up the game of golf or just starting out?
Get golf lessons first and commit to hours and hours of practice, its hugely frustrating but so rewarding especially the first time you break 100 strokes.
What is your favourite golfing memory?
Watching Christy O'Connor Jnr's most famous golf shot, a 2 iron to the 18th green of the Belfry to win the 1989 Ryder Cup.

Dooks Golf Club is renowned for its friendliness and invites all visitors to enjoy the unique atmosphere of the Clubhouse. The warmth of the greeting you will receive at Dooks is unrivalled. From the moment you walk through our doors you will feel immediately at home.
The Clubhouse is all inclusive with Locker facilities for visiting golfers, a Pro-shop and Bar/Dining room. After your round why not relax and restore the energy levels! The bar and dining facilities offer visiting golfers the opportunity to relax in comfort and the opportunity to chat with the members. A menu which includes both light snacks and more substantial meals, all freshly prepared using local produce is available throughout the day.
Here in Dooks we have a vibrant Men's Club, Ladies' Club & Junior Club. Our doors are always open to Visitors and Prospective Future Members.
Members Time
Members have priority (Mon-Fri):
09.00 – 10.00 / 13.00 – 14.30 / from 17.00
Members have priority (Sat)
up to 11.00 / from 15.00
Members have priority (Sun)
up to 14.00 / from 15.00
Club Administrators, Clubhouse Staff & Course Staff
| Position | |
| --- | --- |
| Secretary Manager | John Foley |
| Accounts | Breda O'Connor |
| Reservations | Anne Coffey |
| Pro Shop | PGA Professional Dan Sugrue, Jonathan Sparling, Joanne Falvey & Suzanne Murphy |
| Natterjack Bar | Tom Griffin (Bar Manager), Johnny McGillycuddy, Will Mitchell & Colm Galvin |
| Hungry Toad Restaurant | Ciarán Ó'Nualláin |
| Golf Course | Micheál Shanahan (Head Green Keeper), Barry Harmon, Philip McGillycuddy, David Pigott, Charles McGillycuddy & David Houlihan |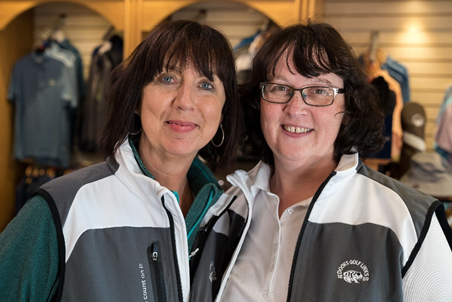 Anne Coffey & Breda O'Connor