A Message From Our Lady Captain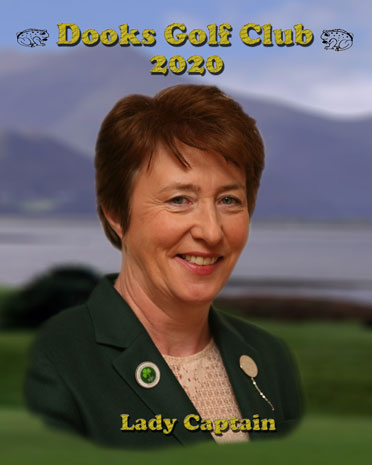 I am honored to be captain of the ladies club at Dooks for 2020. As an outsider I can vouch for the warm welcome that is extended to any visitors to our great club. Although one of the oldest golf clubs in Ireland, Dooks had always been a progressive and forward thinking golf club. This is perhaps most evident when we note that Dooks has the unique privilege of having, we believe, the first female captain of a golf club in Ireland, in the form of Lady Edith Gordon in 1921.
Our Ladies section is going from strength to strength and membership of the ladies club continues to grow.
We are delighted to have been able to recently purchase land directly in front of the club house which will be converted into a state of the art practice facility. I am excited to introduce a short game school this year, run by our golf pro Dan Sugrue. The school, which will commence in February, will follow an 8 week programme covering all aspects of the short game. The aim is that we will finish the school with a series of efficient practice drills which will highlight both our areas of weakness and areas of improvement that we can take with us and continue to work on throughout the year.
This year we are going to trial a series of 'super 7s' on Tuesday evenings. These will be open to all ladies as well as juniors and we would particularly like to encourage those members who play very little golf to try this out. The format will be singles stableford over the first 7 holes of the course.
We are also looking to introduce more team events throughout the year. Possibly every 4th or 5th competition to be run as a team competition. With the new handicapping system, team events, where you play your own ball, will count towards your handicap index. I think it's important to balance out qualifying competitions with some fun and that's what we are hoping to achieve with this.
– Our ladies away trip will be on Saturday 16th May to Bantry Bay golf club staying in the Maritime hotel and having a meal in the hotel also.
– Lady Captains day is on Sunday 19th July 2020.
– Boyles' Open Charity day is on Sunday 26th April
– We run two other open days on Sunday 23rd August and Thursday 1st October.
I want to take this opportunity to wish all our ladies an enjoyable golfing year in 2020.
Lady Captain's Profile
When did you first start playing golf?
In 2001 when on holidays with some friends who were golfers. They arranged for me to have a golf lesson and I was hooked from the first shot!
What is your favourite course?
Ardglass is a great course. Closer to home Tralee and Ceann Sibeal are hard to beat.
What do you think is the biggest challenge facing the game of golf?
Age. We are struggling to attract golfers in the 20 to 40 year age group.
What do you like most about golf?
Knowing that you can always improve.
What was your lowest & highest handicap?
Lowest 12 and highest 38
Can you remember your best golf shot?
Hopefully its the next one! Probably sinking the 20 foot putt on the 17th at Dooks during the
mixed foursomes in 2019
Can you remember your worst golf shot?
Too many…..between the whiffs, the shanks, the hooks …they were all pretty bad.
Who is your favourite sportsperson? Why?
Mary Peters was a great role model to me growing up in Northern Ireland.
What piece of advice would you offer anyone thinking of taking up the game of golf or just starting out?
Get lessons, don't take yourself too seriously and enjoy the journey
What is your favourite golfing memory?
Europe winning the Solheim cup in 2019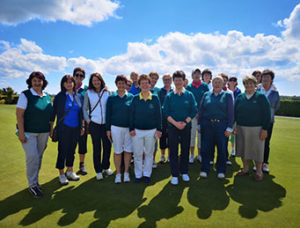 Ladies' Captains's Weekend away to Kinsale County Cork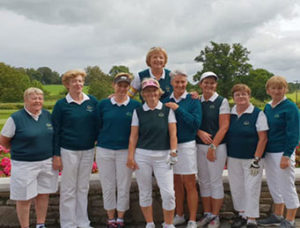 Challenge Cup Team – Munster Finalists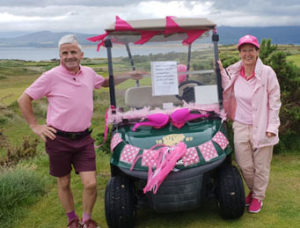 Play in Pink for Cancer Research

2014
ILGU Junior Cup Munster Champion
2012/2008/2007
Noreen Moore League Champions
2007
Noreen Moore League Champions
2007
ILGU Senior Foursomes Southern District Champions
1997
ILGU Junior League Champion
1991
ILGU Munster Cup Champions
1990
ILGU Minor League Champions
1987
ILGU Minor League Champions
Charity Fundraising by the Ladies' Club
Down through the years the Dooks Ladies' Club have raised thousands of euros for many local and national charities.
Irish Hospice Foundation
Recovery Haven
Irish Kidney Association
The Samaritans
The Irish Guide Dogs for the Blind
Our club also supports the National Breast Cancer Research Institute through our Play in Pink charity days. 'Play in Pink' has been growing nationally raising over €800 ,000 to date with monies going directly to the charity.