A Message From Our Lady Captain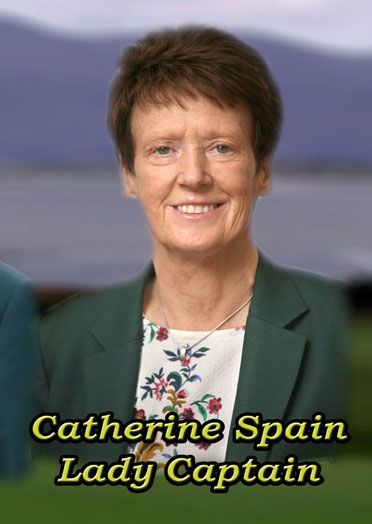 I am delighted and honoured to be Lady Captain of Dooks for 2019. Dooks has always been a very special place for me, a wonderful links course and such a beautiful place, a little slice of heaven.
I want to thank the members of Dooks for being so friendly and welcoming to me when I moved to Kerry. I, in turn, look forward to welcoming visitors from all corners of the world to our beautiful links in Co. Kerry.
In 2019 we want to particularly welcome our new members of the club and I would love to see you participate in all aspects of club life. We want to get as many as possible playing in competitions, so if you need some support in this please take part in our buddy program for new members. To remain a vibrant club we want to keep attracting new members and help those new members feel a part of our club.
If you are thinking about taking up the sport of golf or if you are a seasoned golfer looking for a new club do come and have a chat with us in Dooks.
To our seasoned members I wish you a very enjoyable year of golf. To all our Dooks teams I wish you plenty of success and most importantly enjoyment.
Teams are an important part of our ladies' golf and we want to support our teams to help them to achieve success. I myself have found a great sense of fun and camaraderie from playing on teams and I encourage everyone to give it a go and see the enjoyment that can be had from it. Taking part in team panels will also improve your golf.
We will be introducing some new competitions in 2019. The first of these is the ILGU silver and bronze medals. These medals are based on stroke play competitions and there are two categories, 0 to 20 and 21 plus, The winners will go on to play for a gold medal in a national competition.
The second will be new match play trophies. There will be different categories for various levels of handicap so that you will be playing people in a similar handicap range.
Match play is great for your golf and it will be a bit of fun too so I hope you will all enter these competitions.
Thank you all for your support, I wish you all good golfing in 2019 and I look forward to representing you.
Catherine Spain
Your 2019 Lady Captain
Lady Captain's Profile
When did you first start playing golf?
I first started playing golf when I came to Dooks as a child on holidays. In those days the course was pretty empty so we could head out anytime and play away. I think the first competition I won was the 4 hole competition in the Dooks children's competition.
What is your favourite course?
Dooks of course. I've been a member of Milltown in Dublin but Dooks is such a fantastic course and so beautiful it has to be my favourite.
Can you remember your worst golf shot?
Far too many to make one more memorable than the other!
What do you think is the biggest challenge facing the game of golf?
The age profile of golfers is, of course, one of the biggest problems. The biggest challenge is getting younger people and more women into golf and then getting these new golfers to the point where they are happy and confident to go out in competitions.
What do you like most about golf?
I like just being out in the air, I like the social element of golf and in Dooks I love the beauty of our surroundings. I like the satisfaction of hitting a good golf shot.
What was your lowest & highest handicap?
My lowest was 17 and my highest was 36.
What piece of advice would you offer anyone thinking of taking up the game of golf or just starting out?
Just enjoy it, it might be a bit frustrating at the beginning but be patient and enjoy being out there.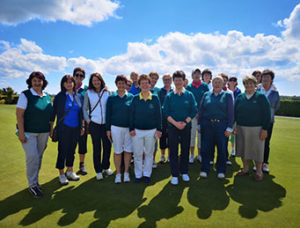 Ladies' Captains's Weekend away to Kinsale County Cork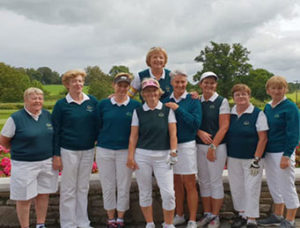 Challenge Cup Team – Munster Finalists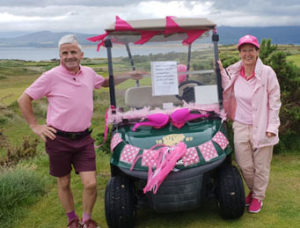 Play in Pink for Cancer Research

2014
ILGU Junior Cup Munster Champion
2012/2008/2007
Noreen Moore League Champions
2007
Noreen Moore League Champions
2007
ILGU Senior Foursomes Southern District Champions
1997
ILGU Junior League Champion
1991
ILGU Munster Cup Champions
1990
ILGU Minor League Champions
1987
ILGU Minor League Champions
Charity Fundraising by the Ladies' Club
Down through the years the Dooks Ladies' Club have raised thousands of euros for many local and national charities.
Irish Hospice Foundation
Recovery Haven
Irish Kidney Association
The Samaritans
The Irish Guide Dogs for the Blind
Our club also supports the National Breast Cancer Research Institute through our Play in Pink charity days. 'Play in Pink' has been growing nationally raising over €800 ,000 to date with monies going directly to the charity.