A Message From Our Captain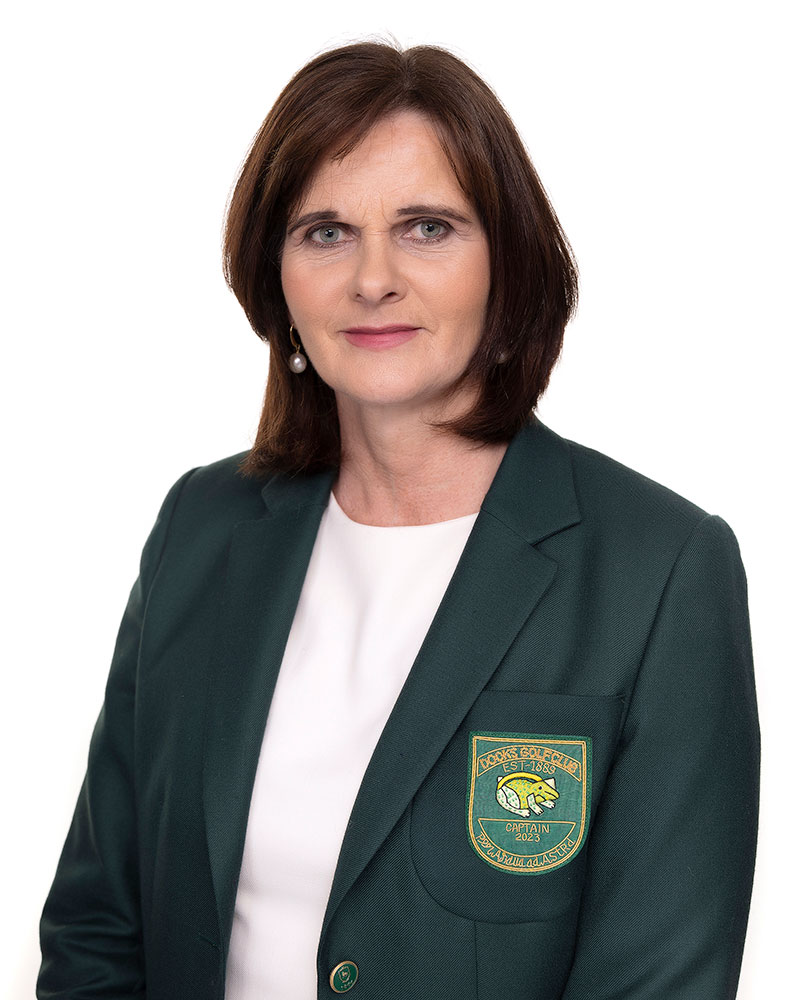 It is a great honour and privilege for me to be representing Dooks Golf Club as Captain of the Ladies Club 2023.I very much appreciate the many good wishes I have received from my fellow members and staff, this encouragement and goodwill is reflective of our wonderful club.
As Captain, I would like to thank all our committees and volunteers. I would ask all members to please support our committee members who give generously of their time to help run the many activities of the club. The new development of a Club Practice Facility will be another exciting and major milestone for our club, a facility for future generations to enjoy. Thanks also go to our Professional, Dan, for all the great work he does with members and Juniors alike and to our dedicated ground and office staff.
I believe we have a well-deserved reputation as one of the friendliest clubs in Kerry. We have a beautiful course with spectacular views, all of which is well maintained by our exceptional green keeping staff, allowing the course to be played all year round.
Thanks, to our fantastic sponsors who are hugely important to us. We would like to thank them for their loyalty and continued support.
We are always ready to welcome new members and beginners are just as welcome as established players, so if there are ladies out there who would like to take up golf, come along and enjoy the companionship and the fun. Our Pro, Dan, is on hand to give advice and lessons.
We have a busy year of golf ahead, we will have our usual weekend competitions, scrambles and some summer season Tuesday evening 13Hole team events to encourage integration of our new members, our active members, our visitors and those from disability groups.
Our Open Days this year take place on 28th May and October 18th, our Captains Charity Day is on the 30th of July and my chosen charities are Kerry Down Syndrome and Kerry Hospice.
I am looking forward to the Golf Ireland Inter-Club competitions this year and I would like to thank, in advance, all players and managers taking part and representing our club.
Dooks will host the West Munster Final of the Australian Spoons on 18th July 2023, this will be a fantastic opportunity for us to showcase our spectacular golf course and extend a warm welcome to our visitors.
I hope as the new golfing season gets under way, you all play great golf in 2023 but most importantly share much fun and laughter.
Go raibh mile maith agaibh go leir.
Dates to look forward to:
| Date | Event |
| --- | --- |
| 29th April | Ladies' Away Trip to Doonbeg Golf Club |
| 28th May | Open Day |
| 22nd July | Ladies' Captain's Prize |
| 30th July | Boyles Charity Day (Open Day) |
| 5th & 6th August | President's Prize |
| 5th October | Open Day |
| 21st October | Past Captain's Day |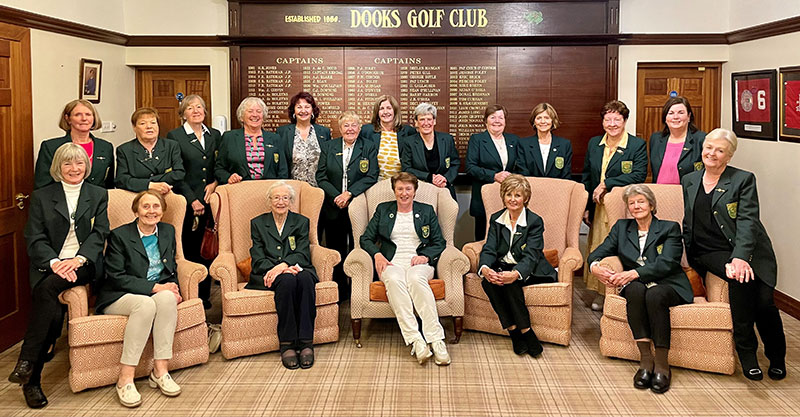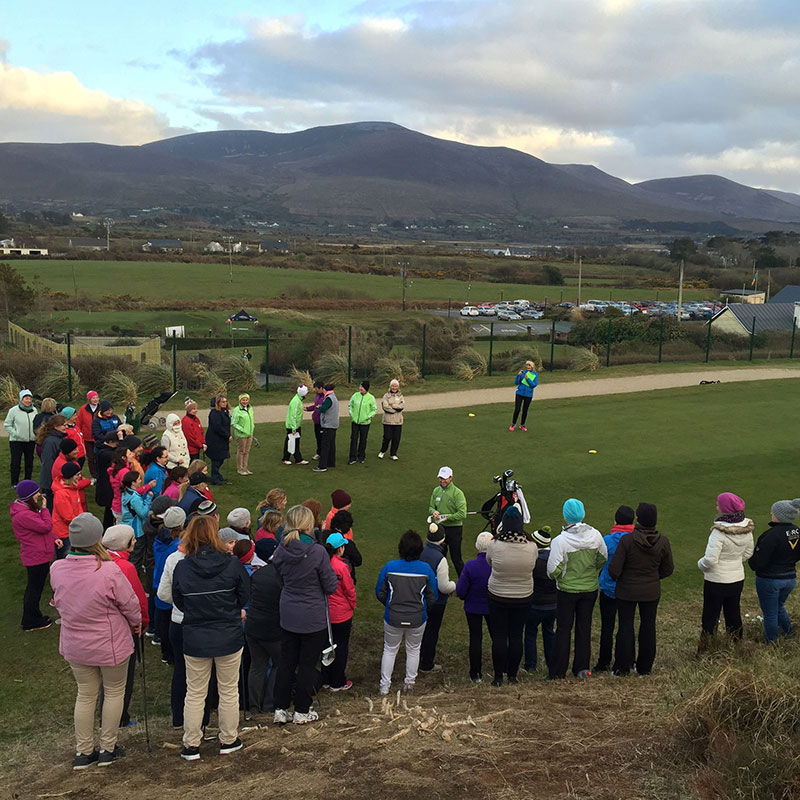 Captain's Profile
When did you first start playing golf?
I joined Dooks Golf Club in 2006 but it was many years later before I started to play the game.
What is your favourite course?
Apart from Dooks Golf Club it must be Waterville Golf Links, its wide meandering fairways appeal to me and like Dooks, it's majestic views of the wild Atlantic Ocean. I feel it is a course suitable to golfers of all standards and I relish every opportunity to play there.
What do you think is the biggest challenge facing the game of golf?
It must be the age demographics, currently the majority of people who play golf are 50+ as they have an interest, resources and time. Getting young people involved in the game is important to ensure the future and growth of both the game and the club. Family participation is one way we can encourage growth in the sport, particularly the involvement of women and girls.
What do you like most about golf?
For me, golf is a way to enjoy the outdoors while breathing in the fresh air and enjoying the stunning views Dooks has to offer. It is also a great way to remove the mind from the day-to-day cares and while we all love hitting a great shot or having a great score, golf wouldn't be what it is without the social aspect of the game.
What was your lowest & highest handicap?
My lowest was 17.00 and my highest was 36.
Can you remember your best golf shot?
The Covid Summers of 2020 and 2021 were kind to my golf, my handicap went from 26 to 17.0 so a few good shots back then helped me along the way.
Can you remember your worst golf shot?
Yes, that is easy because I have bad shots every time I play. I try not to dwell on them, just move on and hope the next shot will be better.
Who is your favourite sportsperson? Why?
I don't have a particular favourite sports person as such, I enjoy watching golf, Gaelic football and Horse Racing but I am particularly proud of our Irish women in sport, namely Rachel Blackmore, Katie Taylor, Kellie Harrington, Amy Broadhurst and Leona Maguire. I am also extremely proud of our amazing Irish paralympic athletes who show us what can be achieved with sheer hard work and determination.
What piece of advice would you offer anyone thinking of taking up the game of golf or just starting out?
Be patient, there will be days when you play that will leave you wondering why you play at all, and often where you feel you are not improving, but your game will improve with practice, perseverance and it is worthwhile to invest in a few lessons.  It is also important to remember it is just a game, enjoy yourself and enjoy the journey.
What is your favourite golfing memory?
Watching Leona Maguire become the first Irish woman to appear in the Solheim Cup and then to go undefeated and become Europe's top scorer with four and half points playing a vital role in Europe's 15-13 win over the US was truly memorable in 2021.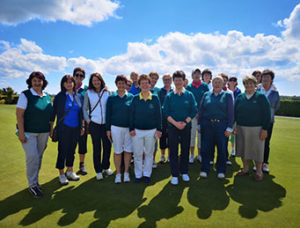 Ladies' Captains's Weekend away to Kinsale County Cork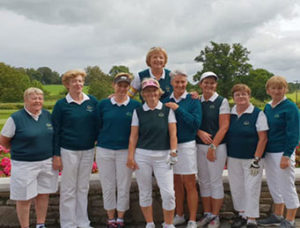 Challenge Cup Team – Munster Finalists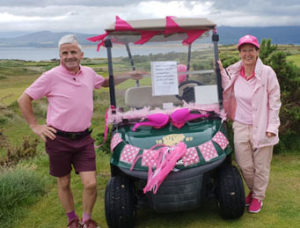 Play in Pink for Cancer Research

Past Victories
2014
ILGU Junior Cup Munster Champion
2012/2008/2007
Noreen Moore League Champions
2007
Noreen Moore League Champions
2007
ILGU Senior Foursomes Southern District Champions
1997
ILGU Junior League Champion
1991
ILGU Munster Cup Champions
1990
ILGU Minor League Champions
1987
ILGU Minor League Champions
Charity Fundraising by the Ladies' Club
Down through the years the Dooks Ladies' Club have raised thousands of euros for many local and national charities.
Irish Hospice Foundation
Recovery Haven
Irish Kidney Association
The Samaritans
The Irish Guide Dogs for the Blind
Irish Community Air Ambulance
Our club also supports the National Breast Cancer Research Institute through our Play in Pink charity days. 'Play in Pink' has been growing nationally raising over €800 ,000 to date with monies going directly to the charity.