Dan Sugrue (Club Pro)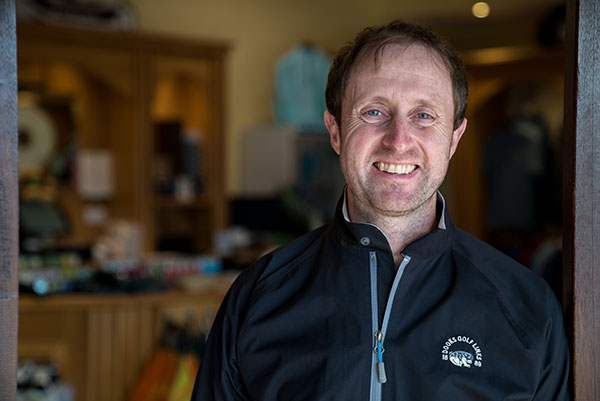 Daniel Sugrue is our PGA Head Professional and will provide tuition and instruction for golfers of all ages and abilities. Daniel has been a professional golfer for 17 years. After a successful amateur career, he reached the final stage of the European Tour School in San Roque, Spain and earned playing rights on the European Challenge tour. He has shown his passion for links golf qualifying for the British Open in Royal Troon in 2004 and subsequent 2004 Irish Open at Baltray Links in Co. Louth.
Playing tournament golf across the world and working closely with world class golf instructors has shaped Daniel's natural approach to Golf Instruction. Dooks has a state of the art short game area and recently introduced an indoor golf facility using Trackman 4 Technology. We welcome members and all visiting golfers to use these facilities to get the very most out of their game.
To book a lesson with Dan, please contact the pro-shop at 066 9768205
Dan Sugrue Profile
PGA Pro
When did you first start playing golf?
First golf shot was hit at Dooks as a young boy caddying for my Dad in the early 80's.
Who introduced you to it?
My father was a low handicap golfer in Killarney and introduced me to the game.
What is your favourite course (out from Dooks!)?
Any golf course in Kerry. We are spoilt with the best in the world.
Can you remember your best golf shot?
Still waiting for my best golf shot
Can you remember your worst golf shot?
Nearly hit someone getting out of a portable toilet during the British Open in 2004, that was my most embarrassing golf shot
What do you think is the biggest challenge facing the game of golf?
Biggest challenge facing golf is Slow Play.
What do you like most about golf?
Every shot is counted with only yourself to blame or reward. A game that develops character, discipline and friendships.
Who is your favourite sportsperson? Why?
I've always admired Padraig Harrington. He is an ambassador for Irish sport worldwide and has made the very most of his talents through hard work and dedication
What was your highest handicap?
I started at 24 h/cap
What piece of advice would you offer anyone thinking of taking up the game of golf or just starting out?
I'm biased but start with a golf lesson from a PGA Professional.
What golf advice would you give to the more seasoned golfer?
Don't think about technique when you play. Watch the golf ball at impact and finish your golf swing in balance. This should be the last bit of advice you give to yourself before each shot